Thank you for voting! We will add the winner design at the end of the week. Meanwhile, you can save 15% with VOTE15-1194 as a thank you.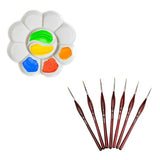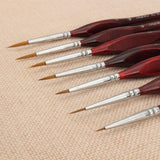 PAINTER ADDON SET (BRUSHES, PALETTE)
🐶 sold in the last 3 hours
🖼️ Most customers finish their work of art in only 6 hours.
🎁 The perfect hobby!
✔️ 9/10 customers recommend BestPaintByNumbers!
Get the feeling of PRO-PAINTING and get the PAINTER ADDON SET for an insane price! 
What is included?
1x 7 HIGH PREMIUM QUALITY BRUSHES
1x PAINTING COLOR PALETTE (FLORAL)
OUR PREMIUM BRUSHES


The Therapeutic Influence of Art


Painting by numbers has been scientifically proven to reduce anxiety, create focus, and promote brain relaxation. Let the stress fade away with every stroke of your brush and let your imagination flow with every color you see.

Our paint by number kits normally come with 3 essential brushes ranging from small, medium, and a large sized one which is perfect for the numbered contours on your canvas. But with our Premium Quality Paint Brushes, it is guaranteed that the overall experience will feel more professional. These high quality brushes will ensure that each stroke will provide you with a stunning piece of artwork. 

The hairs on these brushes are made out of nylon and comes with a sturdy wooden handle. Each brush is labeled and has a distinct shape to match the corresponding areas on the canvas, from the simplest to the most complicated ones. One thing's for sure: this will make your painting experience a whole lot easier!
OUR PAINTING COLOR PALETTE (FLORAL)
MINI FLORAL PAINT PALETTE
Being an artist is hard especially with separating your colors. But with this Mini Floral Paint Palette, it will make your painting experience faster, easier and more convenient! Not to mention its cute and simple design, it's a great add for your artist collection.
With its sleek and simple design, it's a great part for your painting set. Its easy to clean, portable and great for starters! Even without painting experience, it's very easy to use and helpful for starting out. It's easy to bring to any painting event, whether it's a painting night at your friends or family, you'll always be a step ahead. And an amazing gift idea for anyone starting out.
 Features:
100% high quality.
Suitable for all water-based paints.
Made of molded white plastic, it is durable and easy to clean.
8cm/3.15" size and portable
With a round inside cut into 2 pieces and 8 petals around.
You are our priority so we keep our Return Policy very simple!
If you are unhappy with your order because of any reasonable quality issue, it is our priority to make things right.

We'll elevate your replacement to the head of the order line and reproduce and reship it to you at no additional cost for you!

...and if you are still dissatisfied with your order because of a quality issue (we haven't heard anybody who is), you can request a refund.