Inspiring Stories
Share Your Own Story with Our Paint by Number Products!
Do you have a unique and inspiring story to tell about your journey with our paint by number or diamond painting kits?
We'd love to hear about your experiences, your creative process, and the joy our products have brought you. Your story could be the inspiration that other art enthusiasts are looking for!
By sharing your story, you're becoming a part of our growing community of artists and hobbyists. We can't wait to hear what you have to share.
Submit Your Story
United Through Art
KY / United States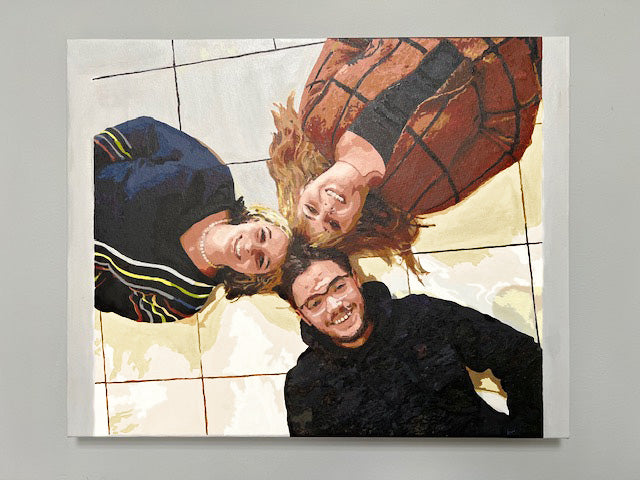 My family is small, with only three grandchildren. One of the three was led astray and didn't communicate with his own sister for more than a year.


They went from being inseparable their whole lives to estranged in just a moment, in a single day. This was devastating to our small but very close family.


On top of that, the original confrontation had to do with COVID, and it happened on my birthday. As the mother of the brother and sister who weren't speaking, I was shaken to the core, and it was difficult to be functional during the year that this was all happening.


My parents and my daughter believed I could fix this, but in reality, I knew I couldn't.


As a mother and a perfectionist, I was simply heartbroken. This falling out happened at a family gathering on my birthday, and I couldn't fix it or make it better.


It broke me.


I kept faith and prayed a lot – it was the only hope I found. A year and a half went by, and things suddenly turned around.


He reached out to his sister, who took him back and consoled him through his breakup with his girlfriend. This happened just days before his 23rd birthday.


Two weeks later, we were celebrating not only Thanksgiving but also the return of the prodigal son.


Over the years, I would have the kids lie on the ground, putting their heads together, and take a picture looking down on them.


This year, I had the kids lie on the ground to take that same photo. It came out great.


With Christmas around the corner, I ordered this print on paint by numbers for my parents as a gift.


This was the result. ❤️


This picture I painted is a constant reminder of our grace and love for one another…family.

Jennifer F.
Colorful Connections: How Paint by Numbers Blossomed a Mother-Daughter Bond
LA, United States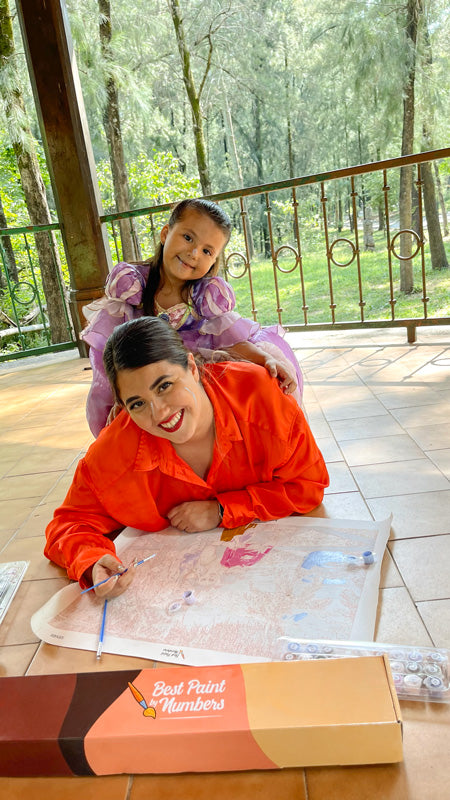 As a young mother, I've always been passionate about finding activities that foster creativity, connection, and inspiration for both my daughter and me.
Amidst the hustle and bustle of daily life, I yearned for a shared hobby that could help us unwind, bond, and appreciate the beauty of nature.

That's when I discovered BestPaintByNumbers and their wonderful paint by numbers kits, which opened up a world of color and newfound excitement for us. At first, I was unsure if painting together would genuinely bring us closer or spark our imagination. But I decided to give it a try, and the transformation that followed was nothing short of magical.

As we started painting, I found that it became a therapeutic way for us to connect, express ourselves, and appreciate the world around us.
With each brushstroke, we immersed ourselves in the vibrant colors and intricate details of our artwork, inspired by the beauty of nature.

Our painting sessions quickly turned into cherished moments spent outdoors, surrounded by the sights and sounds of nature. We would set up our easels in parks, gardens, or by the lakeside, allowing the serenity and splendor of the natural world to guide our creative process. This shared love for painting in nature brought us closer together, strengthening our bond and nurturing our artistic spirits.

I am incredibly grateful to BestPaintByNumbers for providing such high-quality kits and helping us embark on this enchanting journey. Their dedication to customer satisfaction has truly enriched our lives. Paint by numbers has been a transformative experience for my daughter and me, and I wholeheartedly encourage others to explore the captivating world of paint by numbers with BestPaintByNumbers' fantastic products.
I was very impressed with the results...
Huntingdon, Canada
I recently retired after 34 years of working and I always a little artistic side, so I was looking for a new hobby.
I decided to try paint by numbers and saw that I could get my pictures done and paint them...
I was very impressed with the result and how relaxing this was.
Check out my projects.
Marc V., 55 year old recently retired.

Helped me to recover my mind...
Coldspring, United States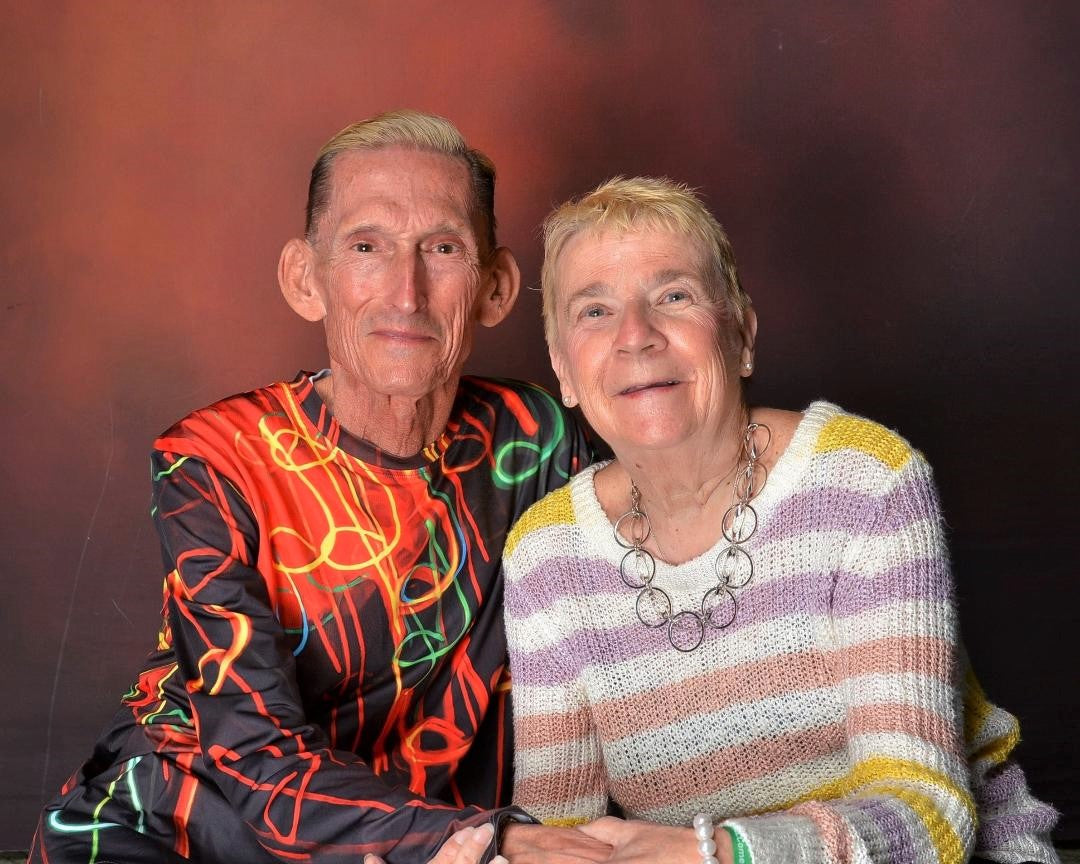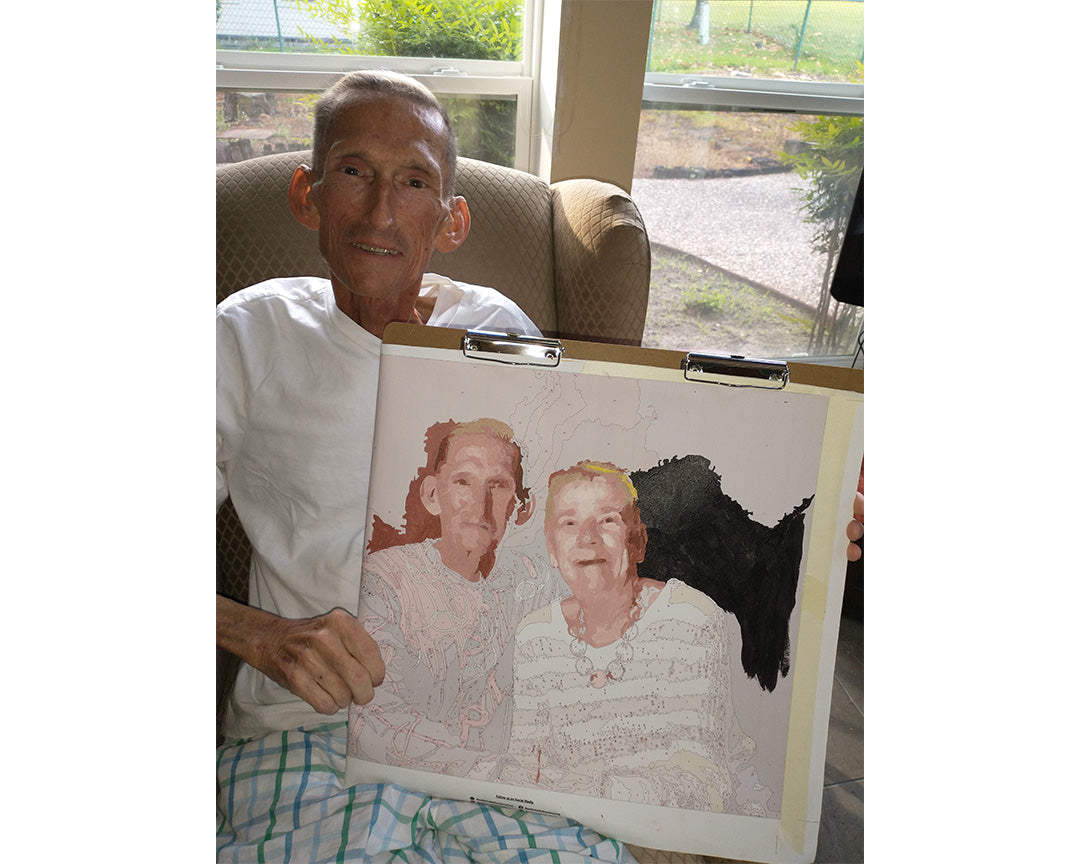 I purchased the Paint By Number Kit in early December 2022 for a Christmas Gift for my Husband.
It came after the first of the year ...... just about the time he became ill and spent several weeks in the hospital.
He was released in early March and with assistance his recovery is doing well.
Along with some Physical Therapy to help strengthen his body, working on his Paint By Number Project has assisted in the recovery of his mind.
He has only started by painting the head features..... but he is enjoying every minute.

The first picture is the original picture sent in for the making of the canvas project.
I must say.... the transfer and enlargement is very much life-like!

Enjoy!!!
Andrea P.
Stress Relief in Every Brushstroke
PA, United States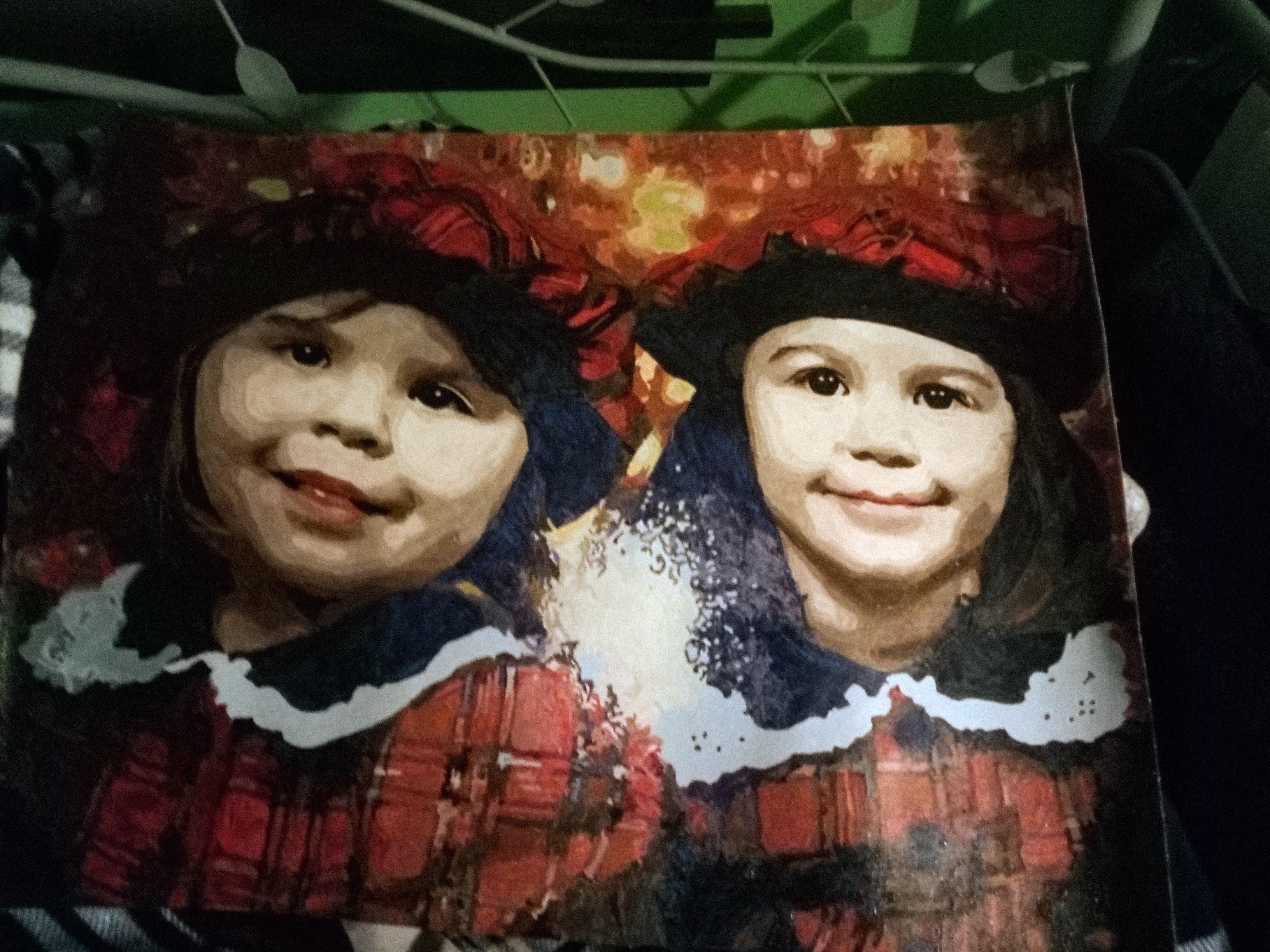 I used to have a lot of stress. 
But now that I buy 2 to 3 paint by number kits a month, my stress is gone for the most part. 
I even got my stepdaughter doing them also. 
I love doing these.  It's a great hobby.
Mark S.
Busy Moms' Path to Tranquility
NY, United States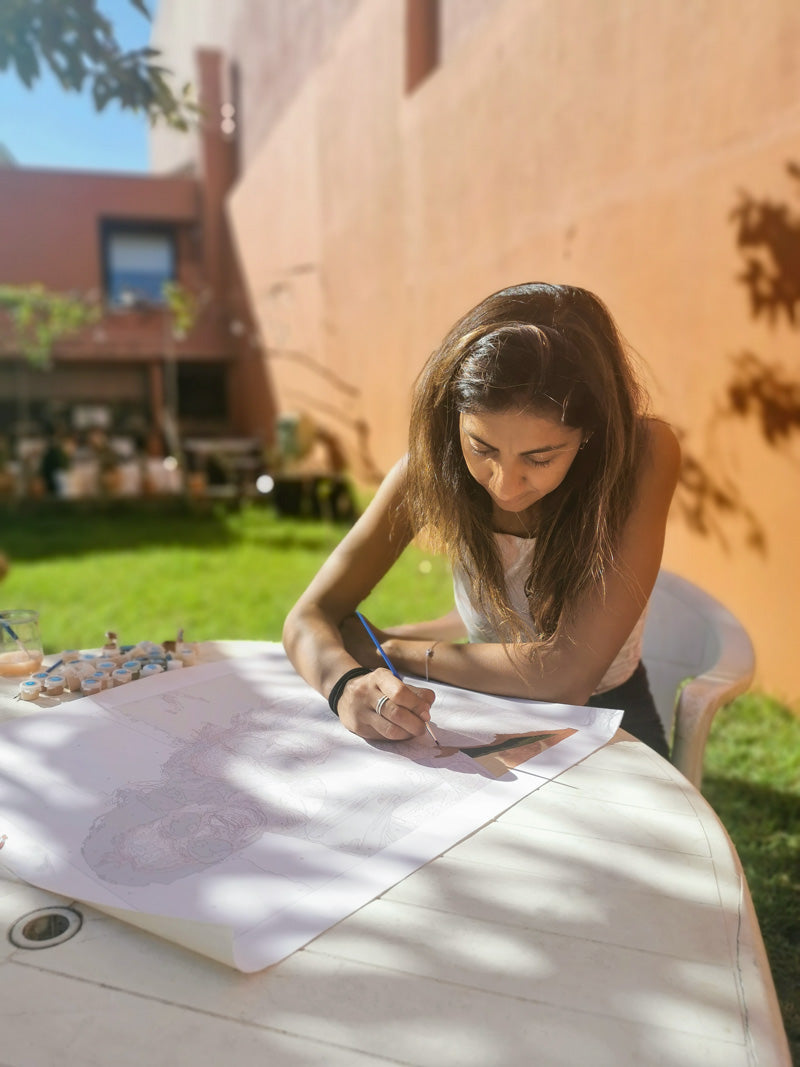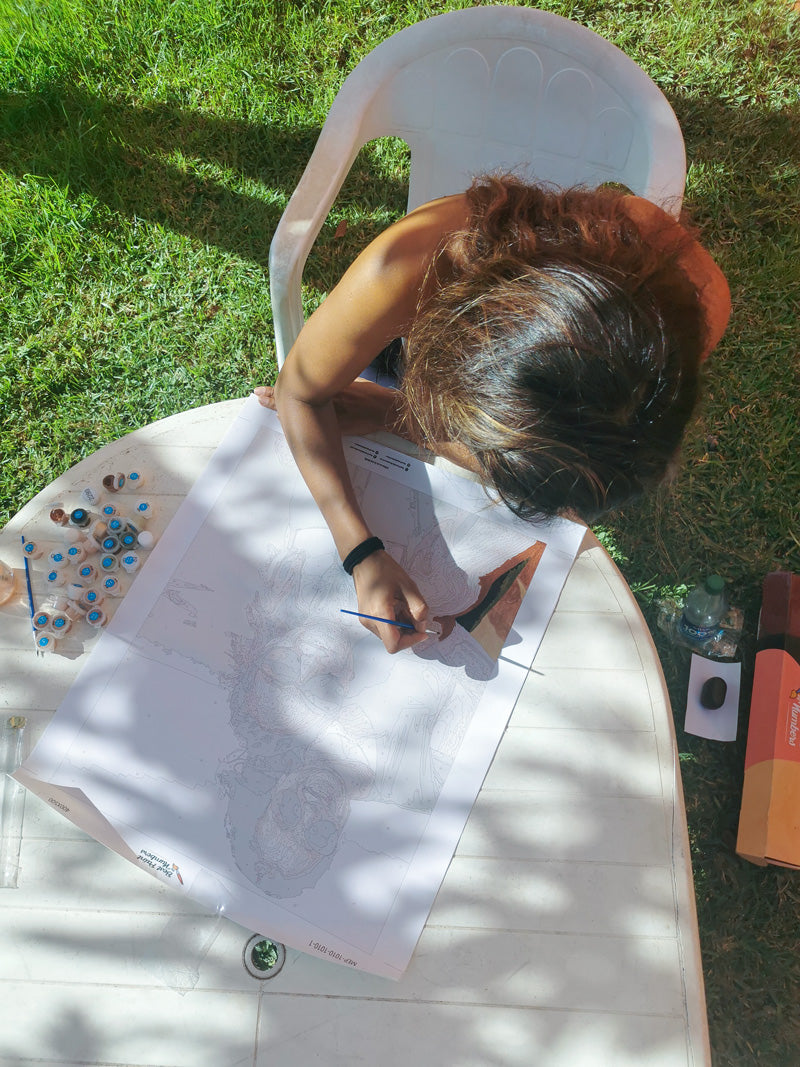 As a loving parent, I've faced the challenge of juggling work, family, and personal commitments. With a full schedule and a strong desire to spend quality time with my children, I was determined to find a way to relax and recharge amidst the whirlwind of life. That's when I discovered paint by numbers kits, and everything changed.
Initially, I was unsure whether I could fit a new hobby into my already busy life. But I decided to carve out some precious moments for myself, and the results were astonishing. Painting became a sanctuary of serenity in my bustling world. As I found a way to make time for this creative outlet, I felt more present and engaged in other aspects of my life.
Now, I eagerly purchase 4 to 5 paint by number kits each month, embracing the moments of peace they bring. Immersing myself in each painting provides a valuable escape from daily stress, allowing me to reconnect with my inner calm. As I focus on my artwork, tranquility replaces tension, leaving me feeling accomplished and recharged.
This newfound passion for paint by numbers also brought my sister and me closer. Intrigued by my enthusiasm, she joined me in this creative adventure. We now cherish the time spent painting together, bonding over our shared love for this soothing outlet.
Paint by numbers has been a transformative experience for us, effectively managing stress and strengthening our relationship. Our shared love for this calming, creative pastime has enriched our lives beyond expectations. I wholeheartedly recommend paint by numbers to anyone seeking a soothing escape, deeper connections, and the determination to make time for life's precious moments.
Anna K.
Review Title
VIC, Australia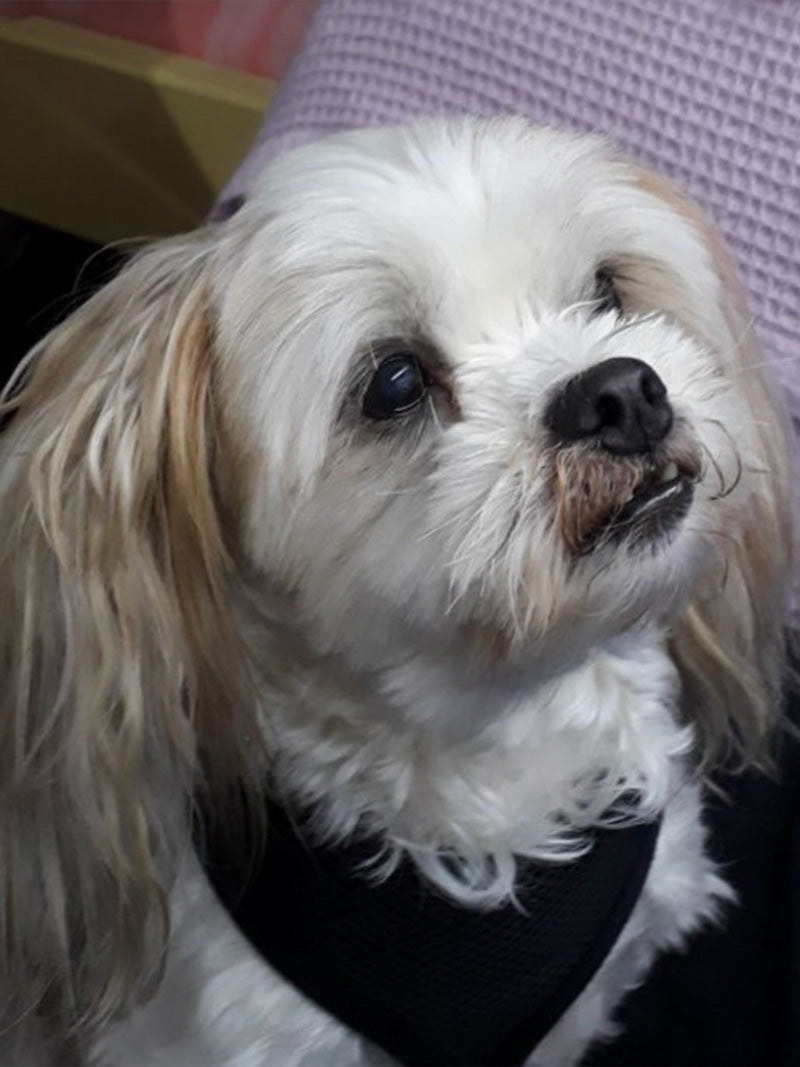 So grateful for the opportunity to create beautiful paintings using paint by numbers kits, I embarked on a project that would hold a special place in my heart.
One of my beloved pets had passed away, and I longed for a way to preserve the memory of our time together.
Through paint by numbers, I created a lifelike portrait that captured the essence of my dearly departed companion.
Now, every time I glance at the painting, I'm reminded of the love we shared and the cherished memories that will live on forever.
Janice C.