Thank you for voting! We will add the winner design at the end of the week. Meanwhile, you can save 15% with VOTE15-1194 as a thank you.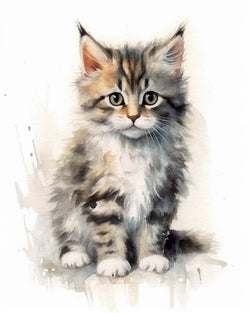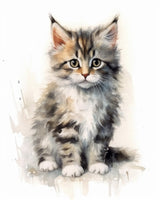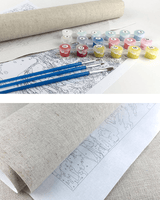 Cat - Paint by Number Kit
🐶 sold in the last 3 hours
🖼️ Most customers finish their work of art in only 6 hours.
🎁 The perfect personalized gift!
✔️ 9/10 customers recommend BestPaintByNumbers!
Explore the world of art with our all-in-one paint by number kit featuring a captivating pre-designed pattern:
Cat - Paint by Number Kit
EASY PAINT BY NUMBERS FOR EVERYONE
It's not easy being an artist, but now you can be one in just one easy purchase! Unleash your creative side with this easy to do paint by numbers. Enjoy a relaxing day while painting your stress away. And the best part? You can do it anywhere, anytime and in any way!
WHAT'S IN IT FOR ME?
DIY WALL ART - An amazing wall art painted by you is always a great addition to your place. Nothing beats a personalized artwork beautifying the corners of your home!
GREAT BONDING ACTIVITY – You can now paint with your family, friends, or even on a girls' night out! Wine is highly recommended ;)



It is guaranteed that doing crafts together with the people close to your heart helps in strengthening your relationships. Let the wonders and magic of colors brighten your day and bind you together as you paint a beautiful piece of artwork with your loved ones.
AWESOME GIFT IDEA - Not for you? No problem! You can give it to a friend or a family member who loves painting and doing creative activities. With our huge selection of items, you will never have to struggle to look for a gift again. Whether it be a holiday, birthday, or an anniversary gift - these paint by number kits are definitely the perfect go-to presents!
STRESS RELIEVER – Bad days are no longer a problem. Paint-By-Numbers is proven to be therapeutic and can take the stress away. We all know that colors are very relaxing for kids and adults alike. With this activity, you can take a break from a very stressful day and instead be soothed with each stroke of colors and relive the fun of painting artworks during your childhood.
IMPROVE YOUR SKILLS – Don't be afraid to start painting! The more you paint, the better you get. And the best way to kick-start the creativity in you is with a Paint by Numbers.
BUT WAIT, THERE'S MORE!
Anyone can work with paint by numbers, and you don't need the skills to be a painter. Everything you need to start your journey with art is already provided by us—you can start painting right away! It's easy to do, just match the numbers with the paint and you're already on your way to your very own masterpiece. Paint your stress away and spend time with your friends the best way!
AWESOME! WHAT'S IN THE KIT?
1 high-quality canvas 30x40 cm / 12x16 inch or 40x50 cm / 16x20 inch with pre-printed numbered contours.

1 water-based acrylic paint set. Everything is ready-to-paint, no need to mix the colors.

a set of 3 brushes (1 small, 1 medium and 1 large)
You are our priority so we keep our Return Policy very simple!
If you are unhappy with your order because of any reasonable quality issue, it is our priority to make things right.

We'll elevate your replacement to the head of the order line and reproduce and reship it to you at no additional cost for you!

...and if you are still dissatisfied with your order because of a quality issue (we haven't heard anybody who is), you can request a refund.