Thank you for voting! We will add the winner design at the end of the week. Meanwhile, you can save 15% with VOTE15-1194 as a thank you.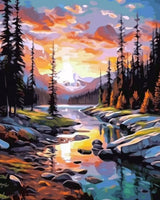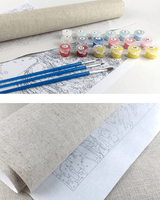 Dreamy Landscape: Paint by Numbers Kit
🐶 sold in the last 3 hours
🖼️ Most customers finish their work of art in only 6 hours.
🎁 The perfect personalized gift!
✔️ 9/10 customers recommend BestPaintByNumbers!
Explore the world of art with our all-in-one paint by number kit featuring a captivating pre-designed pattern:
Dreamy Landscape: Paint by Numbers Kit
YOUR ARTISTIC JOURNEY STARTS HERE
Ever dreamed of being an artist but daunted by the thought of starting from scratch? Fret not! With our Paint-By-Numbers kit, anyone can become an artist – no previous experience or skills required!
This engaging, easy-to-follow DIY kit is not only a pathway to your artistic journey, but also a proven stress-reliever that transforms your cherished moments into personal masterpieces.
WHY CHOOSE OUR PAINT-BY-NUMBERS KIT?
DIY Wall Art: Bring life to your walls with a unique artwork that's painted by you! Personalize your space with our Paint-By-Numbers kit, and take pride in showcasing your creativity.
A Perfect Bonding Activity: Looking for a fun, creative activity for your next get-together? Our kit is a perfect choice! Paint along with friends or family, strengthen your relationships, and create memorable art together.
Thoughtful Gift Idea: Struggling to find the perfect gift? Our Paint-By-Numbers kit is a unique and thoughtful present for anyone who loves to be creative. Ideal for birthdays, holidays, or simply as a special surprise!
Stress Relief: Escape from the daily grind with our therapeutic Paint-By-Numbers kit. It's scientifically proven to reduce stress, create focus, and promote mindfulness. Let each stroke of color wash your worries away!
Boost Your Artistic Skills: It's never too late to start painting! Our kit is designed to encourage beginners and improve your painting skills. Step by step, color by color, watch your masterpiece come to life!
DISCOVER THE JOY OF PAINTING
Whether you're a seasoned artist or picking up the brush for the first time, our Paint-By-Numbers kit is designed to be enjoyable for everyone.
Simply match the numbered paints with the corresponding numbers on the canvas, and let your creativity flow. Turn your stress into a beautiful piece of art that you will cherish forever.
WHAT'S INCLUDED IN THE KIT?
A high-quality canvas with pre-printed numbered contours
A water-based acrylic paint set. Everything is ready-to-paint, no need to mix the colors
A set of 3 brushes (1 small, medium, and 1 large)
The latest BestPaintByNumber eBook
5 hours of relaxing and inspiring music
WE ARE HERE FOR YOU
Your satisfaction is our top priority. If you're not completely satisfied with your purchase, we offer a 30-day money-back guarantee. No questions asked. We are here to support your artistic journey every step of the way.


ORDER NOW AND UNLEASH YOUR INNER ARTIST
Don't let your creative spirit be just a dream. Turn it into reality with our Paint-By-Numbers kit. This is your chance to create something beautiful, something uniquely yours. Order now and transform your favorite photos into personalized art pieces!
Remember, art is not about perfection. It's about expression. So express yourself, create, and most importantly, have fun!
FAQs
Have questions? We've got answers! Check out our FAQ section for more information about our Paint-By-Numbers kit.
You are our priority so we keep our Return Policy very simple!
If you are unhappy with your order because of any reasonable quality issue, it is our priority to make things right.

We'll elevate your replacement to the head of the order line and reproduce and reship it to you at no additional cost for you!

...and if you are still dissatisfied with your order because of a quality issue (we haven't heard anybody who is), you can request a refund.