Thank you for voting! We will add the winner design at the end of the week. Meanwhile, you can save 15% with VOTE15-1194 as a thank you.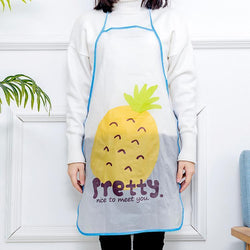 Waterproof High Quality Apron
🐶 sold in the last 3 hours
🖼️ Most customers finish their work of art in only 6 hours.
🎁 The perfect personalized gift!
✔️ 9/10 customers recommend BestPaintByNumbers!
Painting is always messy, especially when you're in the zone. Imagine ruining your favorite shirt all because of how creative you are. Now you can prevent that with the Waterproof Anti-oil Apron!  No longer will any of your beloved shirts be stained. It's great especially for the messy painters, beginner painters or even children.
With the Waterproof Anti-oil Apron, its not only for painting but can also be used for cooking. It's easy to clean so the paint will never stick. Easy to wash, light and useful for other occasions. You can bring it anywhere because of its lightweight and easy to pack. It's also a great gift idea for aspiring artists.
FEATURES:
100% high quality PVC Waterproof cloth
70x50cm
Lightweight and portable
Durable and practical
Waterproof and anti-oil, environmentally-friendly.
Easy to wear, easy to clean
Smooth and simple design
Can be washed, reused.
You are our priority so we keep our Return Policy very simple!
If you are unhappy with your order because of any reasonable quality issue, it is our priority to make things right.

We'll elevate your replacement to the head of the order line and reproduce and reship it to you at no additional cost for you!

...and if you are still dissatisfied with your order because of a quality issue (we haven't heard anybody who is), you can request a refund.